Most homeowners in the U.S. typically pay between $31,000 and $71,665 for a concrete in-ground swimming pool, with an average cost of $52,990. A small-scale project with little to no additions could cost as little as $25,500, while a larger concrete in-ground pool with several add-ons could have an upwards cost of $231,665.
Concrete in-ground pools generally cost higher than fiberglass and vinyl pools, but many homeowners would view this type of in-ground pool as a long-term investment. Advantages of a concrete in-ground pool include:
Concrete pools raise your property's resale value
They come in various sizes and designs
Resistant to chemicals and moisture
Very durable and long-lasting
This pricing guide will take you through all the major factors that determine a concrete pool's cost, such as its size and interior finish.
Average Costs of a Concrete In-Ground Pool
On average, installing a concrete in-ground pool will cost homeowners approximately $52,990, with prices ranging from $31,000 to $71,665. A high-end project, such as a large-sized pool with an expensive interior finish, may cost as much as $231,665. Extreme low-end projects, such as a small concrete pool with a painted interior finish, average around $25,500.
Just like vinyl and fiberglass in-ground pool systems, size plays an important role in determining how much you will spend on a new concrete pool. The pool's interior finish, installed location, maintenance costs, and equipment are some other factors that determine the overall cost of installation.
Cost Estimator by Size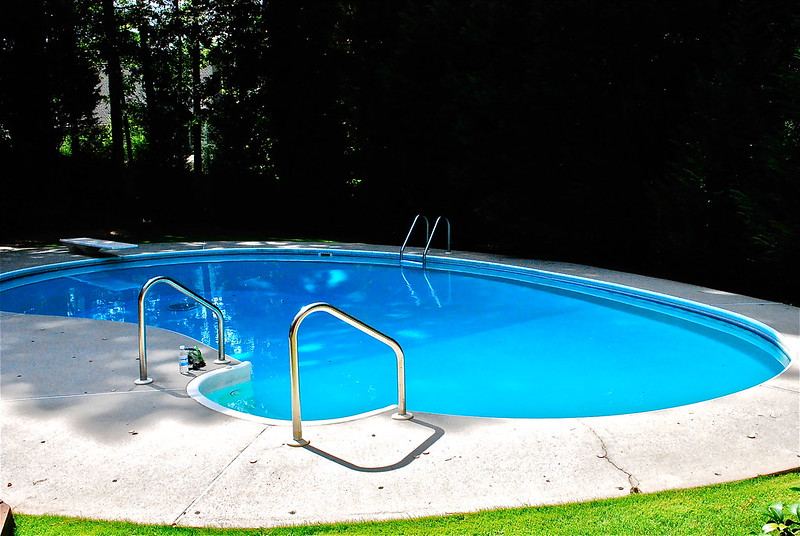 Key factors to consider when planning to add a concrete in-ground pool in your yard include your pool's size and how much space is available in your backyard..
On average, a concrete in-ground pool can be installed for $129 per square foot. A small pool measuring 200 square feet will cost about $25,800, while a much larger pool measuring 800 square feet has an average cost of $103,200.
The table below shows the average cost of different pool sizes.
Other Factors That Affect Cost
In addition to pool size, you should consider how the pool's interior finish, installation site, and equipment will affect total costs.
This section will cover:
Concrete pool interior finish
The most common types of concrete pool finishes are plaster, aggregate, tile, and paint. A painted interior is typically the most affordable for those on a tight budget, with tile being the most expensive and aesthetically pleasing.
| | |
| --- | --- |
| Interior finish | Average cost |
| Paint | $2 per square foot |
| Plaster | $5 per square foot |
| Aggregate | $7 per square foot |
| Tile | $33 per square foot |
Paint
Pros:
✓ Shiny and reflective
✓ Resistant to chemicals and UV radiation
✓ Cheapest option
✓ Variety of colors to choose from
Cons:
✗ Prone to peeling
✗ Will take up to 3 days for paint to dry
✗ Can only last for 2 to 7 years
Plaster
Pros:
✓ Standard choice for concrete pools
✓ Lasts longer than paint
✓ Customizable
Cons:
✗ Harbors algae
✗ Requires heavy maintenance
✗ Cracks and stains
Aggregate
Pros:
✓ Lasts longer than plaster
✓ Aesthetically pleasing
Cons:
✗ Glass beads can fade over time
Tile
Pros:
✓ Gives your pool a stunning appearance
✓ Many available options such as porcelain
✓ Easy to clean
Cons:
✗ Can crack over time
✗ Sharp edges when improperly installed
✗ Most expensive option
Pool maintenance
Every pool system requires maintenance to get the most out of your investment. Failure to keep up with your pool's necessary maintenance can lead to further damage and a shorter lifespan, costing you more in the long run. On average, most homeowners spend between $1,065 and $1,800 per year on pool maintenance.
Acid washing
Acid washing is one of the most important measures to maintain your in-ground concrete pool. The typical price range for an acid wash is approximately $0.53 per square foot, required every 3 to 5 years.
Acid washing a concrete pool:
Removes stains, such as copper and magnesium
Kills algae
Reduces damage to the pool's surface
Saves money on replastering
Replastering concrete
When your concrete pool starts to feel rough or appears to be chipping, you might want to replaster it. But why is it necessary?
To keep water from draining out
Makes the pool surface feel gentle on the skin
Gives the pool a smooth, shiny look
Replastering a pool will cost you from $2,500 to $13,000, depending on your pool's size and depth.
Pool deck
Pool decks allow you to walk barefoot with little risk of slipping. They are also quite durable and water-resistant. On average, pool deck installations cost $9 to $15 per square foot.
Pool location
Before installing your new in-ground system, pool builders will need to determine how to access the installation site, and how your property's location will simplify or complicate the process.
Here are examples of how the pool installation site can affect the total cost:
Hard-to-reach pool installation sites will require extra measures, leading to higher costs
Need to clear the land? Tree removal might cost you between $385 and $1,070 per tree.
Rocky soil can damage your pool builder's equipment, adding more costs to the bill.
Increased insurance
Homeowners like to think of their swimming pools as a fun and entertaining addition to their backyard. Unfortunately, walking or running around a pool may lead to slips, falls, and injuries. This added risk of injuries on your property may lead to higher insurance costs.
Increased property taxes
Most in-ground pools, particularly concrete systems, will increase your property's resale value. This benefit might also lead to higher property taxes, something you should consider before investing in a concrete pool.
Permit
Pool companies or builders may provide some information on pool installation permits, but it is generally your responsibility to check the local laws and obtain the necessary permits for building a pool on your property.
On average, pool permits cost between $475 and $1,900.
Add-Ons and Extra Services
Adding a concrete pool is a great addition to your property, but there are some additional services that can take your swimming pool to a whole new level. Each service comes at a different price, so you can decide which way to go depending on your budget. This section covers several pool add-ons and other landscaping services that can spruce up your backyard.
Pool equipment
Pool equipment or accessories are a great way to revamp your pool, but they may also be considered as an essential part of any pool system. For example, installing a pool heater can extend the swimming season and let you enjoy warm waters on chilly nights.
| | |
| --- | --- |
| Accessory | Average cost |
| Pool heater | $3,000 |
| Automatic cleaner | $625 |
Water features
Adding a splashing fountain can give your concrete pool a unique tropical look. Water features typically cost between $1,500 and $21,666.
Diving board
Installing a diving board typically costs between $365 and $5,000. A diving board also could increase your home insurance costs.
Pool lighting
Adding lights to your new concrete pool can increase its visual appeal, improve safety, and make it visible during the night. Fiber optics may cost as much as $1,567, while LED lights could cost you as little as $617.
Pool cover
A pool cover will help keep debris out of your pool, ensure safety, and retain heat in the water. Installing a pool cover will cost between $392 and $2,400.
Landscaping
Landscaping services may not be directly linked to your pool, but they can certainly make a difference by giving you an aesthetically pleasing pool area. Landscaping services could include building a new fire pit or installing a misting system.
| | |
| --- | --- |
| Landscaping service | Average cost |
| Gazebo installation | $5,365 – $9,025 |
| Pergola installation | $2,100 – $6,000 |
| Sod installation | $0.90 – $1.80 per square foot |
| Flower bed installation | $650 – $3,000 per flower bed |
| Tree planting | $25 – $3,000 per tree |
| Misting system installation | $1,800 – $3,400 |
| Retaining wall | $3,600 – $9,500 |
| Fire pit | $370 – $2,235 |
Concrete Pools Compared to Other Pool Types
Concrete and gunite pools are the most expensive pool type, costing more than fiberglass in-ground pools and vinyl-liner pools. However, this type of pool is very durable and can significantly raise your property's resale value.
| | |
| --- | --- |
| Material | Average Cost |
| Vinyl-liner | $24,000 – $44,000 |
| Fiberglass | $24,335 – $70,000 |
| Concrete | $31,000 – $71,665 |
Fiberglass
Pros:
✓ Low maintenance and long-term costs
✓ Algae-resistant
✓ Quickest to install
✓ Pool shell requires little to no upkeep
Cons:
✗ Limits in shape, design, and size
✗ Crane required to lower shell into place
✗ Smooth surface makes it easier to slip and fall
✗ Difficult to recoat
Vinyl-liner
Pros:
✓ Cheapest option
✓ Soft to the touch
✓ Non-porous surface makes it resistant to algae
✓ Quick to install
Cons:
✗ High maintenance costs
✗ Thin and vulnerable to tears
✗ Least durable
✗ Steel walls not compatible with saltwater pools
Concrete/gunite
Pros:
✓ Raises your property's resale value
✓ Comes in different shapes, sizes, and depth
✓ Resistant to moisture and chemicals
✓ Very durable
Cons:
✗ Difficult to repair or replace tiles
✗ High maintenance and resurfacing costs
✗ Slowest to install (up to 12 weeks)
✗ Most expensive material
✗ Not very resistant to algae
Pro Cost vs. DIY Cost
Installing an in-ground swimming pool is a detail-oriented project that requires heavy equipment and professional experience. Attempting to install a concrete pool yourself could increase the risk of injuries or property damage. For a proper and secure pool construction, hire a professional pool builder and get a new concrete system with peace of mind.
Cost of Concrete Pools Across the U.S.
All costs listed in this pricing guide are national averages, and do not apply to every city or state. Due to higher costs of pool material and labor, homeowners in urban areas will generally spend more on concrete pools than those living in rural areas or the suburbs.
FAQ About Concrete In-Ground Pools
How do you winterize a concrete pool? 
There are several ways to prepare your concrete in-ground pool for the winter:
• Make sure water chemistry is balanced to protect your pool from staining
• Try adding winter chemicals. They help reduce algae growth and reduce corrosion 
• Drain the filters and pumps to avoid the plumbing from freezing or cracking 
Can a saltwater system work in a concrete pool? 
A saltwater system generally works best with a fiberglass pool. Saltwater could damage the cement finish and reduce your concrete pool's lifespan, leading you to spend more money on resurfacing and other forms of maintenance work. In the end, a chlorinated system is recommended to ensure a long-lasting concrete pool with minimal damage. 
Does a concrete in-ground pool increase your property's resale value? 
Yes, a concrete in-ground pool can increase your property's resale value. These pools are considered the most expensive type of in-ground pool system, but potentially increasing the home's resale value will certainly please many homeowners. 
When to Call a Professional Pool Builder
Concrete pools are probably the most aesthetically pleasing type of in-ground pool system. With installation costs ranging from $31,000 to $71,665, concrete pools are priced higher than fiberglass and vinyl-liner pools.
High durability, various customization options, and a potential increase in your home's resale value are some of the positive attributes of this pool type, allowing you to design a breathtaking backyard.
Ready to get started? PoolGnome connects you to the best professional pool builders near you.
Main Photo by: Pexels
Note: PoolGnome may get a referral fee for matching you with contractors in your area.
Jeffery Keusseyan
Jeffery Keusseyan is a writer with a knack for research and handiperson skills. He enjoys writing about home improvement projects and efficient ways to maintain your home exterior.